You can unsubscribe from our newsletter in two ways:
A. From HobbyKing Website after logging into your account
1. Log in to your HobbyKing account.
2. Go to "Dashboard"
3. Click on MORE then MY SUBSCRIPTIONS

4. Check the Newsletter - General Subscription and Reward Points Email Subscriptions box if you want to subscribe, otherwise, you can leave it as is.

B. From the newsletter itself
1. At the bottom of the newsletter, click on the hyperlink "Here" to unsubscribe.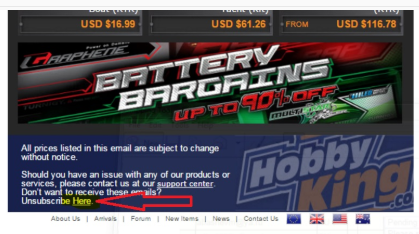 ** If you need further assistance, click HERE to CONTACT US.