I placed an order for a pre-order item, how long will I need to wait for it to ship?

All pre-order items will display an ETA on the product display page (e.g. below).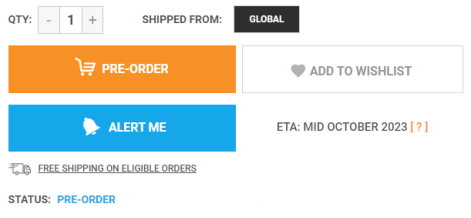 This is an estimate of when the stock will arrive but is subject to change due to variables such as customs delays etc., which are out of our control. We will update the ETA as necessary if there are any delays. Once stock arrives, your order will ship immediately unless you have other pre-order items or backorder items that have not yet arrived. Should you have any questions about your order, updated ETAs or wish to cancel any pre-order items, please contact our CS team for further information.